Turbonetics single turbo kit, this came off of a 350Z.
I purchased this with the intent to install it on my G35, however I have decided to stay NA as I don't need another race car, my 700+WHP DSM handles that job perfectly.
This kit came off a car that was traded into a dealership, it has approximately 7000 miles on all components. All parts are in good shape unless noted and the turbo is in very good condition showing no evidence of oil leakage past the seals. The dealership that removed the kit from the vehicle was careless with the hardware.
As for it fitting a G35, the only differences that I can find in comparing the parts list of the 350Z kit and the G35 kit is the shrouded intercooler with fans, the intercooler fan control module, a different A/C replacement line, airfilter to turbo pipe, and the airfilter to turbo pipe coupler. I think this kit could easily be installed on any 03-05 G35.
A few parts are missing from the kit, I have an Excel spreadsheet of the missing parts, it is mostly hardware, heat wrap, the fuel pump upgrade, and the ECU mailing materials. I have a list with parts pricing, and the parts list to make it fit a G35.
There are 2 different downpipes included, one has the post catalytic converter O2 sensors spaced out from the main pipe on small pipes. I expect this is to dumb down the response of the sensors to prevent any cat efficiency codes.
The finish on the intercooler piping is scratched a bit, or bubbled in a few spots where it seems the aluminum pipe is corroding under it. One bolt is broken off in the wastegate flange, this should be an easy fix with the proper tools. One of the hump hose couplers and one of the straight couplers are damaged. I would suggest all new hoses for the oil drain and vacuum/pressure lines.
Price dropped.
$2500 to your door. This includes PayPal fee and shipping.
I also have the priced list of parts to complete the kit, and to adapt it to a G35 Coupe.
Please contact me with any questions.
Thanks for your time.
The Turbocharger.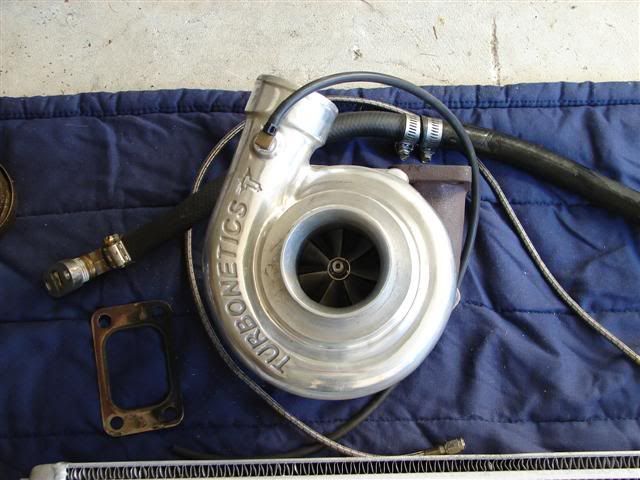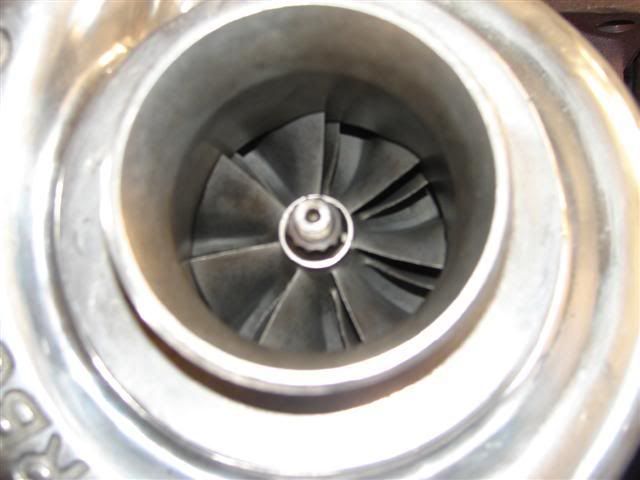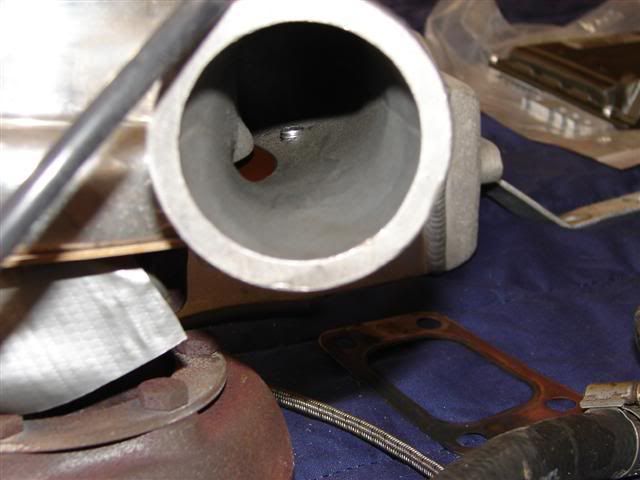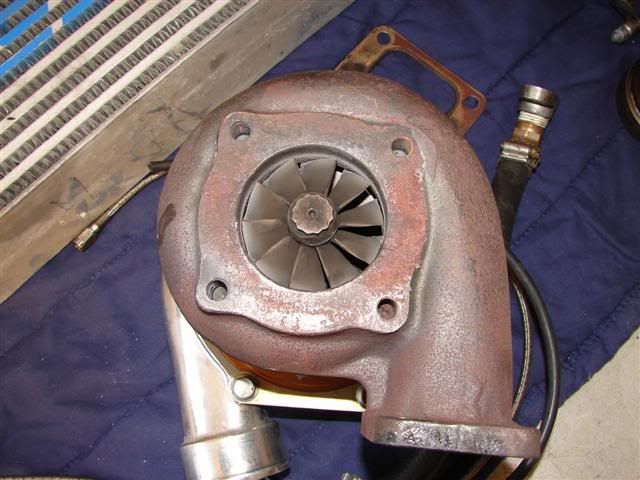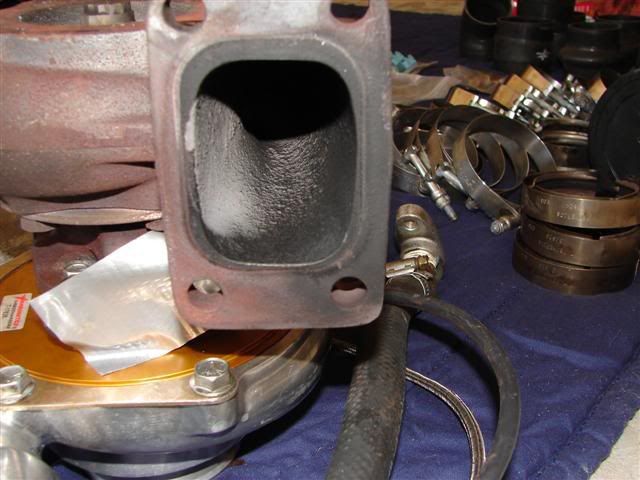 Intercooler.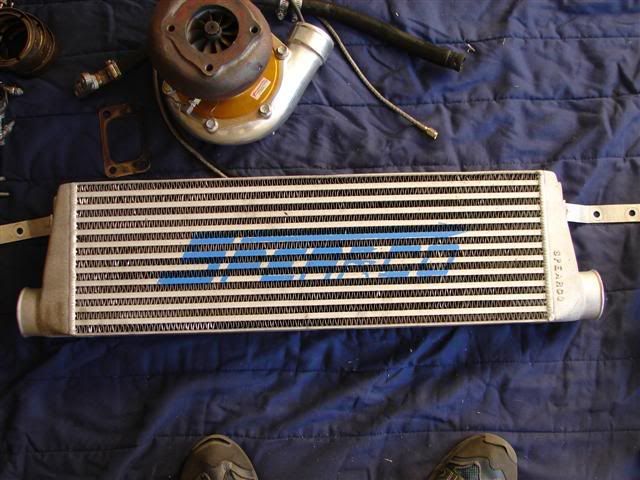 Intercooler pipes.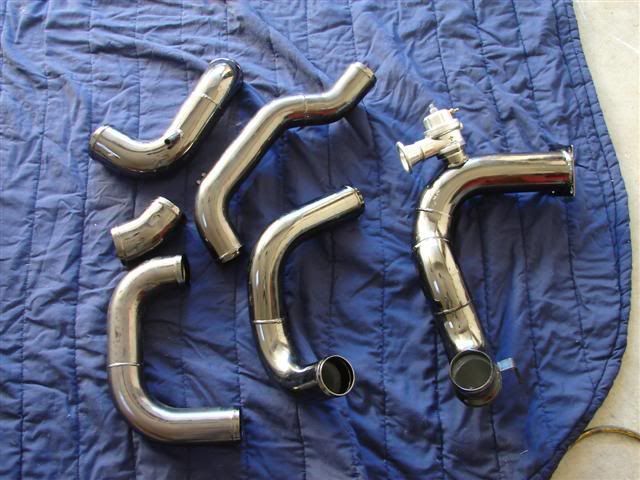 Clamps, Air Filter.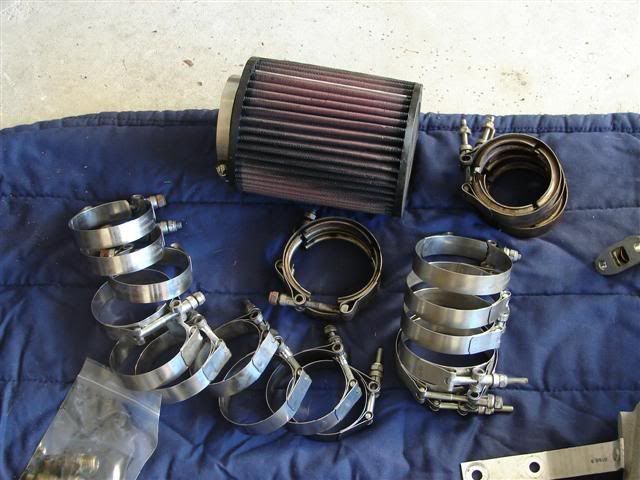 Couplers.
Damaged couplers.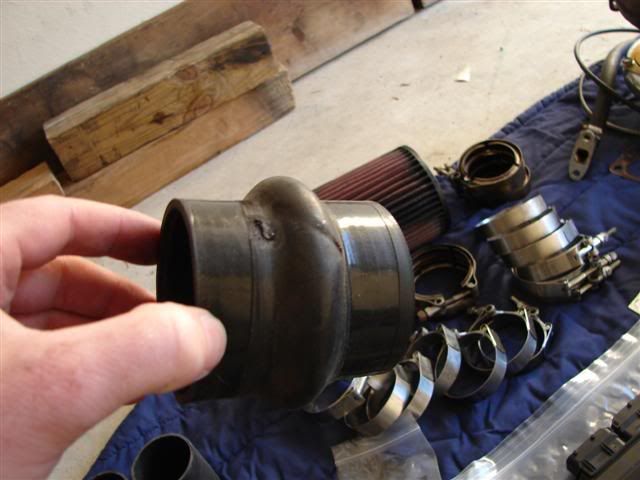 Hot pipes and wastegate.
Downpipe and midpipe.
Injectors.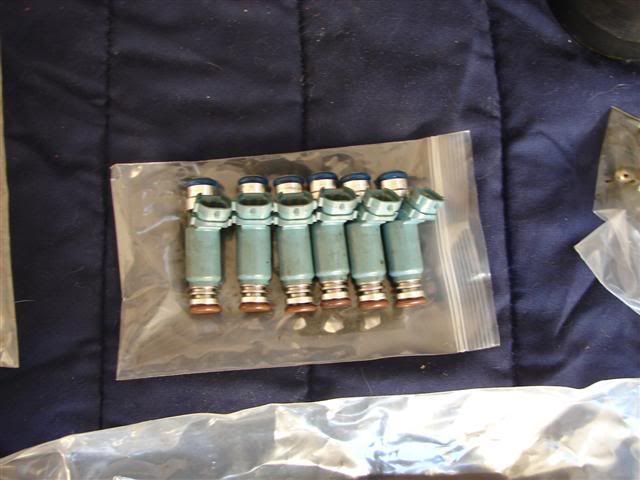 ECU.