Discussion Starter
•
#1
•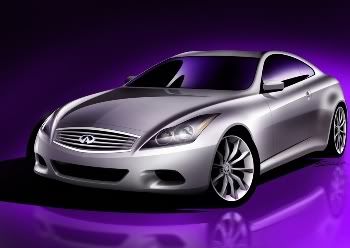 http://www.nissansportmag.com/newsno...8g35coupe.html
This sketch, released by Infiniti on January 10th, depicts what the '08 G35 Coupe will look like (above left illustration). Compared with the previously released G35 Concept (above right photograph), the most striking aspect is the front fascia. The nose has been rounded and softened, compared with the almost angular face of the Concept G35. Whether the result of production or safety requirements (or perhaps aero development), this styling iteration lessens the initial visual impact of the car. To combat this, the grille becomes a more prominent feature, using the same Japanese katana (sword) chrome slats that were employed so effectively in the G35 sedan. Looking just beneath this, the twin lower air intakes on the concept car have morphed into a more conventional rectangular radiator opening flanked by two other intakes. These intakes appear ideally placed (and large enough) to feed cool air directly to the VQ35HR (if that is indeed the engine) for maximum effect.
The catamaran styling of the hood and front fenders separate the Infiniti from its Nissan corporate brethren. The hood features curves and sharp creases which blend smoothly into a sweeping roofline. The L-shaped headlights appear to contain dual High Intensity Discharge (HID) arrays and side reflector strip. The sides are equally fascinating, with upper and lower accent lines which emphasize the sensuous curves and sweep of the bulged fender flares. The upper line sweeps slightly downward and across the conventional door handle of the car, making the wedge styling more apparent. Rocker panels are equally fascinating, with a sweep to emphasize the 'coke-bottle' styling from the powerful fender flares. The greenhouse of both the sketch and the concept G35C promise a sweeping, airy view from the cockpit, but it remains to be seen whether the B-pillar has been eliminated to make way for a frameless door. As expected, the twin camera "mirrors" of the concept car have been replaced with more conventional side mounted mirrors. Likewise, the 20" wheels on the concept car look to be replaced with more conventional 18 or 19" wheels to fill the wheel wells. Current G35 drivers will note the styling of the ten-spoke wheel in the sketch is a development of the unique Infiniti wheel theme.
In summary, this 3/4 sketch of the '08 G35 Coupe promises a dynamic, stunning experience. And this before the engine is even fired! Unique styling features are used to separate this Infiniti model from the upcoming Z car and indeed, from anything else in the world. Nissan Sport looks forward to viewing and driving the newest version of this high-end sport coupe and giving you the inside scoop!
--David Muramoto, Senior Editor
http://www.6mt.net/forum/showthread.php?t=20499
​